Thursday, May 21, 2009
Thursday, May 21, 2009 | Posted by Matthew Willison
|
Edit Post
A while ago a
Phillip
sent me a link to a website called "
Fences
" an app that allows you to organise your desktop icons without anything that would take up a lot of memory and slow down your computer. The three things that I noticed in the first few hours of using it was the amount of memory that it used (tiny would be an overstatement) how easy it was to use and get used to and also how good it looked and felt why using it. Anybody who has tried to find something that is all of these things knows that it is hard to find, rest assured you'll find them all here.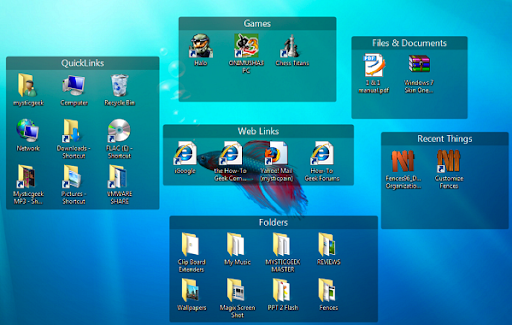 I recently installed fences onto a friend's laptop to try and help him organise a really messy desktop, from the first time I was using it I found that the amount of memory used so low. All of the icons where all organised into files that the app automatically put into place and also was keeping them into place with headings that clearly showed where things where located. This for me was an amazing thing because to do all of that in most other apps you'd expect them to either lag or be so unusable.
As time went on I found out that it was very easy to get used to, rather than having to change how I operated by now having to remember where the files had been organised too I now only had to look around the screen slightly and see where the file was, and usually I'd find a program right next to it that I'd also need. This improved my productivity a whole lot and I really enjoyed this facet of it.
I highly recommend this app, anybody thinking of downloading it I highly recommend you do. If you liked this app then maybe you'd also like another app that I blogged about not long ago "
BumpTop
"
By
Matthew Willison
Matthew's personal golb

Phillip's personal golb

About
Random and geeky articles by two random geek guys, because we have nothing else to do.
Really.

Thanks for visiting and leave a comment! Tell us what you think!

Archive